Wedding Bouquet and Flowers
There is such a huge variety of lovely flower arrangements that are available these days that it can be difficult to decide on which arrangement to use.
Fortunately, there are a lot of magazines that feature the various wedding arrangements that will help with your decision-making.
Another good area of research is with the flower companies that have their businesses online on the Internet as they are catering to a vast market and they generally have the widest range of flower arrangements available.
They are also up with the latest trends – and yes there are trends with flower arrangements that change from year to year.
If the wedding party clothing is in neutral colors then it makes it a lot easier to choose whichever flowers you prefer.  If the bridesmaids have specific colors in their dresses then you will need to coordinate the flowers with these so the overall look of the wedding party is cohesive.
When choosing your wedding flowers and the color schemes that you intend to use they will need to complement your clothing, your bridesmaids' clothing and the decorations that you intend to use at your reception and even your choice and decoration on your wedding vehicles.
All the decisions made in the planning of your wedding flowers should consider all aspects of the wedding just as you would if you were painting a picture.
This is where a wedding planner can come in handy as they are experienced at planning the whole process and know how to put the whole package together to look like one.
Flowers are so important that it is well worth spending your time on good research. 
You should also consider getting your flowers from a reputable online flower store as they are in the business of delivering flowers in top condition on time all the time and this is so important on your wedding day.
Wedding Flowers and Bouquet Budgeting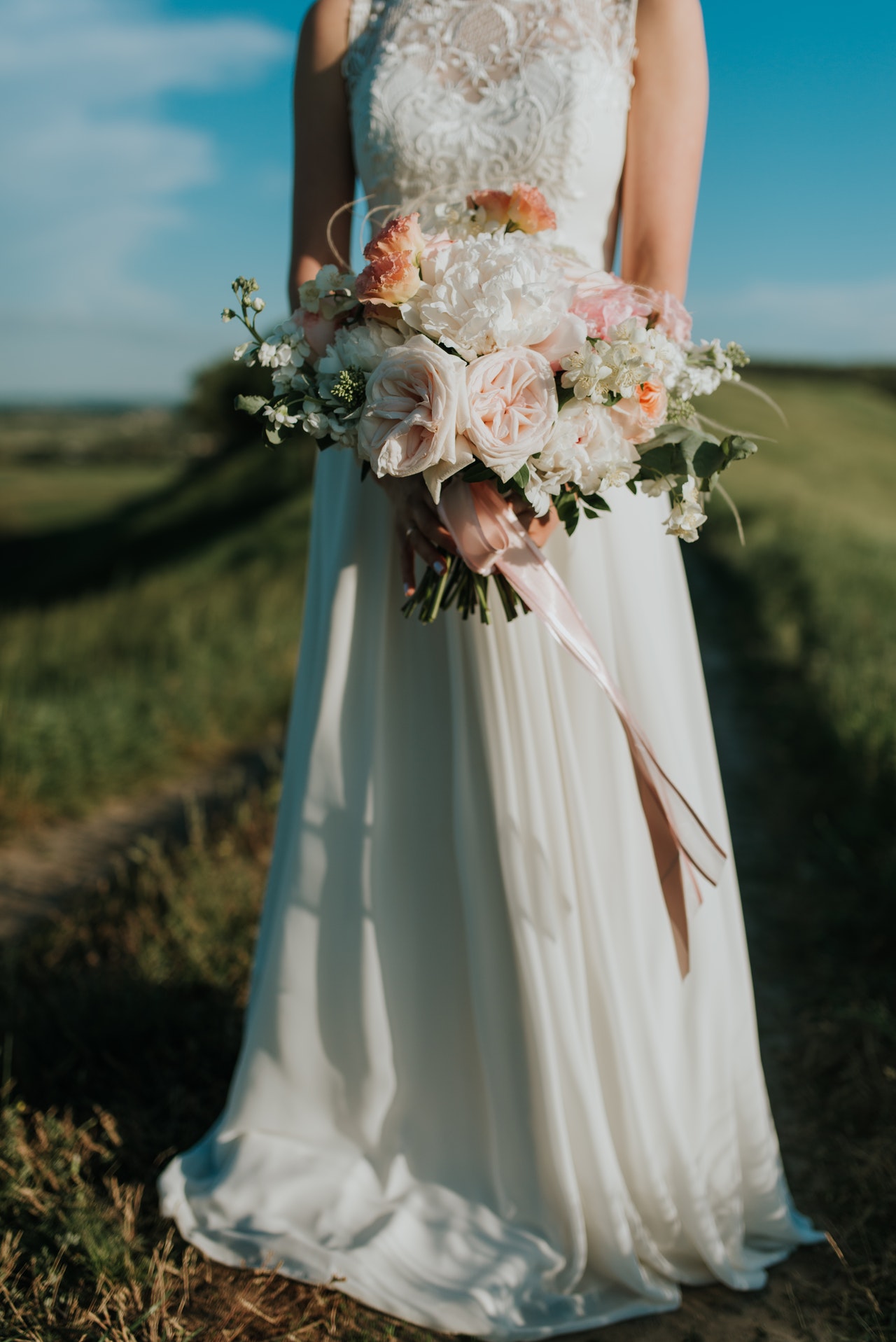 You can spend a small fortune on wedding bouquets but they are like icing on the cake.
They are the dressing that can transform a wedding dress from beautiful to stunning or a photograph from plain to perfect.
Flowers can add the finishing touches to the reception tables and be a talking point for years to come.
They are the arrangements around the wedding cake and at the wedding cake table that can make almost any cake look impressive when designed and displayed correctly.
They can make your wedding photographs look bright and colorful and mirror your own personality.
Make sure that you look at all your options before deciding on your wedding bouquets. Don't be satisfied with what is available at your local florist if you've seen something elsewhere that you desire.
If your florist can't deliver the arrangements that you want then look elsewhere. There are a lot of options available to you!
The big online flower retailers can get you almost anything you like even from other parts of the world if you so desire.  It really is just a matter of finding what you want and paying for it.
Finances will dictate what you can afford in many instances. But, this is one area where you shouldn't shortchange if possible.
You can get quotes from the various different flower suppliers and often you will be able to save money by getting all your flower arrangements from the one place.
It will certainly make the coordination of your wedding plans a lot easier.
Make sure that anyone you use has a good reputation and preferably find someone you know who has used the same supplier and can testify to the good service and quality of the flowers.
There are many options available so don't be satisfied with anything other than the best for you.
Bridal Bouquet Activities
When a bride orders her wedding bouquet, it might not seem that any "activities" will come from it other than as a thing for the bride to hold. But the bridal bouquet can be the source of many interesting activities and meaningful gestures.
During their ceremony, there are all kinds of possibilities. Certainly, you can go traditional and have a flower for both the mother of the bride and mother of the groom. The moms, in particular, love this activity and guests usually appreciate it as well. But what if you turned that traditional gesture on its head and supplied flowers for both the mothers and the fathers?
If the bride supplies flowers to both the men and women, there are a couple of ways to do this. What if dad's flower was enclosed in a verse that he will then get up and read at the ceremony? What if it was a flower to recognize the members of the family who have passed? It gives dad an opportunity to recognize those family members.
If the bride chooses not to have a unity candle but wants some gesture like it, she can have her bridal bouquet designed by having several small bouquets put together.
At an appropriate time during the ceremony, the bridal bouquet is "broken up". Various people might receive a share, such as the mothers and fathers of the bride and groom.
Now, if the bride wants to hang onto her bridal bouquet during the wedding ceremony, but is willing to have some fun with it at the reception, there are a few options there as well.
How about a dance involving the bridal bouquet?
This is silly but fun. The bridal bouquet is on display somewhere near the dance floor. Guests must guess a flower that's in the bouquet before they can enter the dance floor. The first few guests might not have a problem as some flowers are obvious, like roses and tulips. But, others might give people pause. Of course, this won't work if the bridal bouquet is all roses or some other single and obvious flower. For a traditional mixed bouquet, though, it can work well.
For a naughty touch, the bride can hide her garter in the bridal bouquet.
And then, actually put it on her leg before the groom takes it off. Or she can have a couple of breakaway bouquets that are wrapped in garter belts, so hers doesn't get thrown. Instead, the tiny bouquets with garter belts attached are thrown.
When it comes time for the bride to throw her bouquet, there are several options. Some brides choose not to keep their bouquet and simply pluck one flower out of it before chucking the whole thing during the bridal bouquet toss. This is an alternative to having a special bouquet set aside for throwing, and there are others as well.
Are there are a lot of single women coming to the wedding?
Maybe one thrown bouquet won't be enough. Many brides these days are opting for something a little more fun. There are a few options, really. One popular option is to have the florist create several small bouquets. And then, bundle them to look like one bouquet. They are tied lightly with a ribbon. When it comes time for the bouquet toss, the bride unties the ribbon. Then, throws the "bouquet" which is actually several little bouquets. Several women will catch the bouquet, rather than just one.