What is a soulmate and have you found yours yet?
The word soulmate is used to describe a special someone with whom we've deeply fallen in love with and who some believe is the one or soulmate we were destined to be with. But there's more to this and different meanings attached to soulmates.
"when you meet that person. a person. one of your soulmates. let the connection. relationship. be what it is. it may be five mins. five hours. five days. five months. five years. a lifetime. five lifetimes. let it manifest itself the way it is meant to. it has an organic destiny. this way if it stays or if it leaves, you will be softer. from having been loved this authentically. souls come into. return. open. and sweep through your life for a myriad of reasons. let them be who. and what they are meant." ― Nayyirah Waheed

_____
_____
---
Dr. Paulette Sherman: The Search for a Soulmate
by Guideposts
Published on Youtube on Jan 24, 2017
Clinical psychologist, author and relationship expert Dr. Paulette Sherman explores the path from crushes to love to forging a solid and supportive relationship for the long term. For more stories like this one, subscribe to Mysterious Ways magazine: http://www.bit.ly/myswayssub
---
_____
We've searched to find some of the best soulmate quotes so you can determine for yourself what soulmate means to you.
Some think you'll experience something supernatural in bonding with your soul mate. Read our selected quotes and share them with your soulmate and friends.
"Sometimes, soulmates may meet, stay together until a task or life lesson is completed, and then move on. This is not a tragedy, only a matter of learning." ― Brian Weiss

_____
_____
Here's what Wikipedia says about soulmate:
A soulmate is a person with whom one has a feeling of deep or natural affinity.
This may involve similarity, love, romance, platonic relationships, comfort, intimacy, sexuality, sexual activity, spirituality, compatibility and trust.
To say that one waits a lifetime for his soulmate to come around is a paradox. People eventually get sick of waiting, take a chance on someone, and by the art of commitment become soulmates, which takes a lifetime to perfect. – Criss Jami

_____
_____
Lexico says soulmate is simply a:
noun
A person ideally suited to another as a close friend or romantic partner.
"The soulmate is what we aspire to and like to understand about our self, is what we deem to be perfection, purity, and endless love." – Sorin Cerin

_____
_____
However, Merriam-Webster says"
Definition of soul mate

1 : a person who is perfectly suited to another in temperament
2 : a person who strongly resembles another in attitudes or beliefs ideological soul mates

_____
_____
There is actually more to it than that since soulmate seems to be grounded in ancient Theosophy beliefs whose claims were modified by Edgar Cayce.
"Your soulmate is someone you least expect to be." ― Priyanka Agarwal

_____
_____
Read How Relationship Experts Define The Word 'Soulmate.'
"A soulmate relationship is one where you connect easily and instantly. But it doesn't mean the relationship comes without effort. "
However way you take soulmate may be somewhat different than someone else. That can be seen in our collection of soulmate quotes.
"A soulmate is someone whose way of viewing life is not necessarily the same as yours but complements yours. There is not a compromise, there is a compliment." ― Paul Robear


_____
_____
33 Best Soulmate Quotes in Words Plus Pictures (HaHa) Illustrating the Quote
1. "People think a soul mate is your perfect fit, and that's what everyone wants. But a true soulmate is a mirror, the person who shows you everything that is holding you back, the person who brings you to your own attention so you can change your life."
― Elizabeth Gilbert

_____
_____
2. "I describe a soulmate as a 'soul-nurturing mate'. Someone who nurtures your soul, thereby promoting insight and growth."
– Karen Salmansohn

_____
_____
3. "Soulmates are those that we've known many lifetimes, have had many karmic contracts with, and with whom we have resolved conflicts. Marriage partners may or may not be soul mates, though they will be a soul contract. With true soul mates, there is no struggle. What's left over is love."
– Karen M. Black

_____
_____
4. "When deep down in the core of your being you believe that your soulmate exists, there is no limit to the ways he or she can enter your life."
– Arielle Ford

_____
_____
5. "You have the rest of your lives to catch up together. After all, soulmates always end up together. […] Ey-girlfriends are easily forgotten. Best friends stay with you for ever."
― Cecelia Ahern

_____
_____
6. "I couldn't imagine that I'd ever fall in love again like I had with Gideon. For better or worse, he was my soulmate. The other half of me. In many ways, he was my reflection."
– Sylvia Day

_____
_____
7. Soulmates aren't the ones who make you happiest, no. They're instead the ones who make you feel the most. Burning edges and scars and stars. Old pangs, captivation and beauty. Strain and shadows and worry and yearning. Sweetness and madness and dreamlike surrender. They hurl you into the abyss. They taste like hope.
― Victoria Erickson

_____
8. "Though soulmates aren't looking for you, they will find you."
― Kevin Ansbro

_____
_____
9. "True love is finding your soulmate in your best friend."
– Faye Hall

_____
_____
10. "Fun fact: What if your better half is someone else's kindred soulmate and you are just an alternative option to have fun with until they found each other."
― Mohammed Israil

_____
_____
11. "Maybe our girlfriends are our soulmates and guys are just people to have fun with.."
– Candace Bushnell

_____
12. "Did you ever stop to think that even if I am a monster, I might be your soulmate anyway?"
― Julie Johnson

_____
_____
13. "Our soulmate is the one who makes life come to life."
– Richard Bach
14. "I want to be your soulmate, even if I don't believe in them."
– Colleen Hoover

_____

15. "Before you find your soulmate, you must first discover your soul."
― Charles F. Glassman

_____
_____
16. "Soulmate is an overused term, but a true soul connection is very rare, and very real."
– Hilary Duff

_____
_____
17. "A soulmate is someone who has locks that fit our keys, and keys to fit our locks. When we feel safe enough to open the locks, our truest selves step out and we can be completely and honestly who we are; we can be loved for who we are and not for who we're pretending to be. Each unveils the best part of the other. No matter what else goes wrong around us, with that one person we're safe in our own paradise."
― Richard Bach

_____
_____
18. "A soulmate is the one person whose love is powerful enough to motivate you to meet your soul, to do the emotional work of self-discovery, of awakening."
― Kenny Loggins

_____
_____
19. "You and I may be near or far away from each other. But darling you and I are soulmates! And soulmates are always together in body, mind, heart, and soul!"
― Avijeet Das

_____
_____
20. "A soulmate is someone to whom we feel profoundly connected, as though the communicating and communing that take place between us were not the product of intentional efforts, but rather a divine grace."
― Thomas Moore

_____
_____
21. "We recognize a soulmate by the supreme level of comfort and security we feel with that person. That doesn't mean that there aren't issues that remain to be ironed out. Rather, it means we know intuitively that we can resolve issues with our soul mate without losing his or her love and respect."
~ Linda Brady

_____
22. Most people have more than one soulmate. A soulmate can come in the form of a life partner, friend, child, or lover. A soulmate can be someone with whom you share a spiritual path, a joint work in the world, or a commitment to be parents to certain souls. It can be one whose growth you are sponsoring, such as a child.
― Sanaya Roman

_____
_____
23. There is a special bond between twin soulmates – unconditional love, respect for each other, bringing out the best in each other, and highly compatible.
― Mettrie L.

_____
_____
24. "What's the difference?" I asked him. "Between the love of your life, and your soulmate?"
"One is a choice, and one is not."
― Tarryn Fisher

_____
_____
25. "Your soulmate is someone who will help you grow spiritually. That person will help you find and fulfill your purpose in life."
― unknown

_____
_____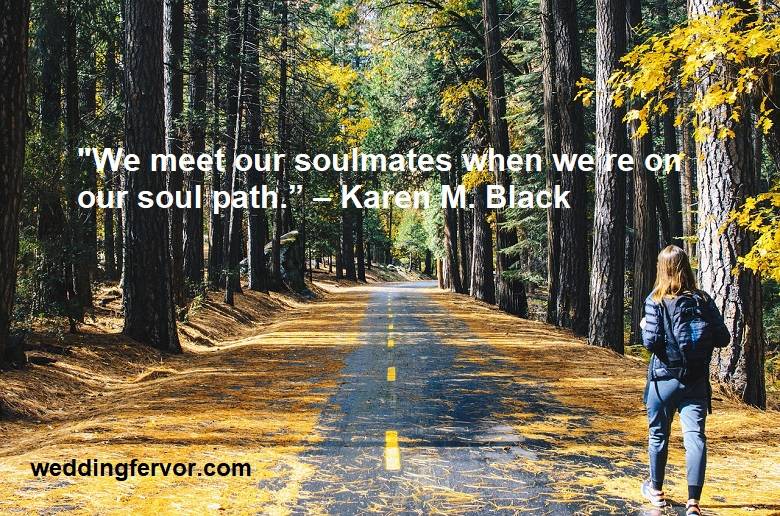 26. "We meet our soulmates when we're on our soul path."
― Karen M. Black

_____
_____
Want a ready made WordPress website to show your presence on the web? We have or can create an easy to handle quote site with one of our aged quote domains. Contact us for more information.

_____
_____
27. "A big issue that some empaths face is unrequited love and all the grief that accompanies this experience. If someone truly is your soulmate or twin flame, the relationship will happen sooner or later. Don't put your life on hold for another person, no matter how badly you want to be with them. If it's meant to be, it will be."
― Mateo Sol

_____
_____
28. Soulmates tend to find each other during the respective pursuits of their soul missions. Creating a soulmate could be seen as a spiritual reward that we give ourselves, after pursuing many soul contracts rife with discord.
― Linda Brady

_____
_____
29. If you want to attract a life partner as your soulmate, there are several illusions you will need to relinquish. One is that your soul mate is someone you will be with for the rest of your life. You can have a soul mate relationship that lasts a few weeks, months, or years. Time has nothing to do with the quality of your connection and its importance in your life.
― Sanaya Roman

_____
_____
30. Your soulmate doesn't just mean your husband or your boyfriend. I have friends in my life who I believe I was meant to meet and be a part of.
― Louise Nurding

_____
_____
31. My husband and I are best of friends first and foremost. We fight like cats and dogs but never stay mad for long. I was lucky to find him, he is in every way, my soulmate.
― Carnie Wilson

_____
_____
32. "My soulmate is out there somewhere, pushing a pull door…I just know it."
― unknown

_____
_____
33. "A soulmate is an ongoing connection with another individual that the soul picks up again in various times and places over lifetimes. We are attracted to another person at a soul level not because that person is our unique complement, but because by being with that individual, we are somehow provided with an impetus to become whole ourselves."
― Edgar Cayce

_____
A Dozen or more SoulMate or Soul Mate Quotes Missing the Word Soulmate
1. "Whatever our souls are made of, his and mine are the same."
― Emily Brontë

_____
_____
2. "A heart worth loving is one you understand, even in silence."
– Shannon L. Alder

_____
_____
3. "Our souls already know each other, don't they?' he whispered. 'It's our bodies that are new."
― Karen Ross

_____
_____
4. "Beauty is the purest feeling of the soul. Beauty arises when the soul is satisfied."
– Amit Ray

_____
_____
5. "If we'd never met, I think I would have known my life wasn't complete. And I would have wandered the world in search of you, even if I didn't know who I was looking for."
― Nicholas Sparks

_____
_____
6. "She lives her life like a flame; a dance of purposeful chaos.… Her enchanting light can guide you and quell your fears… She's hot; warming those who respect her and burning those who don't… She is a flame with an unforgettable glow… A weak man will try to dim her luminance… but her soul mate will take pleasure in fanning the blaze."
― Steve Mariboli

_____
_____
7. "There are no accidental meetings between souls."
― Sheila Burke

_____
_____
8. "Marriage is miserable unless you find the right person that is your soul mate and that takes a lot of looking."
― Marvin Gaye
9. "In all the world, there is no heart for me like yours. In all the world, there is no love for you like mine."
— Maya Angelou

_____
_____
10. "If you love somebody, let them go, for if they return, they were always yours. And if they don't, they never were."
– Kahlil Gibran

_____
_____
11. A bond between souls is ancient – older than the planet.
– Dianna Hardy

_____
_____
12. Have you ever felt really close to someone? So close that you can't understand why you and the other person have two separate bodies, two separate skins?
– Nancy Garden

_____
_____
13. You come to love not by finding the perfect person, but by seeing an imperfect person perfectly.
– Sam Keen

_____
_____
14. Our universe grants every soul a twin—a reflection of themselves—the kindred spirit – And no matter where they are or how far away they are from each other—even if they are in different dimensions, they will always find one another. This is destiny; this is love.
– Julie Dillon

_____
_____
15. "Carry me in your heart wherever you go I'm always here. You just have to look within."
– Jeremy Limn

_____
For Any Doubter's Among Us Here's a Soulmate Quote for You
"There is no such thing as a soulmate… and who would want there to be? I don't want half of a shared soul. I want my own damn soul." – Rachel Cohn

_____
_____
Will Discovering your SoulMate Lead to Dating or Marriage?
Some of us will know our soulmate when and if we discover them. Others will not. If you've met your soulmate it may not be known at first. But over time, if you remain friends or more, you will likely come to know if he or she is your soulmate. Read some of our selected dating or marriage quotes. See if any of them fit your situation.
"Values are sometimes worth living and dying for, and are certainly worth dating and breaking up over."
― Henry Cloud and John Townsend
Will your date or one of your dates turn out to be your soulmate? Some of us may never know, but others may feel that way. See what you'll find in the quotes we've selected. Do any of them meet your particular situation?
_____
Click Here for Dating Quotes

_____
_____
"The essence of marriage is companionship, and the woman you face across the coffee urn every morning for ninety-nine years must be both able to appreciate your jokes and to sympathize with your aspirations."
― Elbert Hubbard
_____
Click Here for Marriage Quotes

_____
_____
"Do what you did in the beginning of the relationship and there won't be an end."
— Anthony Robbins
_____
To see what others think of relationships take a look at our selection. You'll find some interesting quotes on all kinds of relationships within the quotes.
_____
Click Here for Relationship Quotes
_____
_____