Wedding Foods: Catering and Buffet Activities
Wedding foods usually follow the theme of the wedding.
Aside from the theme of the wedding, the foods may follow or be inspired by the season of your wedding.
There are Spring menu available—fruits, veggies and herbs, florals and sunshine.
The most popular months to get hitched are June, August, and September. It's no surprise since summer weddings are so much fun! Help your guests cool down from scorching hot temps with refreshing eats and drinks, cooling cocktails and cold desserts.
Autumn is becoming an increasingly popular time to get married due to the predictable weather and the rich colors of the season that make the perfect backdrop for a wedding celebration. For a truly autumnal feel to your wedding, you can choose dishes that feature the unique palate-pleasing flavors that fall is famous for like apples, pumpkin, root vegetables, and cinnamon.
Comfort food is the perfect staple of a winter wedding menu, as cold-weather events provide an opportunity to serve heavier fare than you typically would during other seasons. Choose a menu that features homely entrees, indulgent desserts, and festive drinks. Consider featuring seasonal flavors like cranberry, mushroom and dark chocolate to create a winter menu full of decadent delights.
Finding a Good Caterer for your Wedding Foods
People will always remember the food at a wedding and while you don't need to go overboard with the expenditure, good planning can ensure that your guests will be impressed with the food without breaking the bank.
Where finances are tight considered changing the time of day and the type of meal as people won't be expecting to get quite so much food for a wedding brunch or lunch as they would for an evening meal.
You can do your own catering if you've got the time and you have people with the ability to prepare good food that you can trust to be reliable and come through when needed.
You can also spend varying amounts of money on employing caterers who are accustomed to servicing weddings.
Wedding catering is big business these days and there is a lot of competition in the market so you have a lot of choices to suit most budgets.
The first step is to do some ringing around just to get an idea of the estimates for the number of guests that you have coming.
Often reception houses will have their own caterers or specific caterers that they use and can be relied on.
This can be an easier solution and more often than not the best solution both financially and for the quality of the food as they will be familiar with preparing and displaying the food in familiar surroundings.
Talk to the places that you are considering having your reception and see what sort of package they can come up with for the venue and the caterers combined.
By having a theme wedding this will often dictate the type of food that you will be having. That can determine whether it will be expensive will not.
A theme wedding might also dictate your choice of caterers and might reduce your available alternatives. This can often push up the price and will need to be taken into consideration.
Buffet Table Activities
Most wedding receptions include a buffet-style meal where everyone stands in an enormous line waiting while those at the food table decide if they want Italian or Ranch dressing on their salad.
There has to be a more unusual way to get people to their food, and a faster one at that, right? There are several fun options you can employ to feed your guests quickly. Lessen the groans of hunger!
Here are some fun options.
One of the most popular is the number system. Each table is assigned a number and the MC or DJ calls numbers at various intervals. The people at that numbered table then find the buffet and begin their feast. You can place the numbers in a variety of locations. For the most utilitarian version, just place the number in the flower arrangement on the table.
Some brides don't like this look of numbered table as if at a convention. In that case, you can put the numbers under the flower arrangements, or under the chairs. If you have place cards at the tables, you can write a small number somewhere on the card so people know which table they're sitting at. For a fun variation, you can have the florist play around with the table floral arrangements. If the arrangements are going to have a dozen flowers, you could have the florist add one extra flower to table "one", two extra flowers for table "two" and so on. Then make the guests figure out which number table they are based on how many extra flowers they have in their arrangement.
The flower method could be cost-prohibitive, of course, if you have a large guest list and many tables.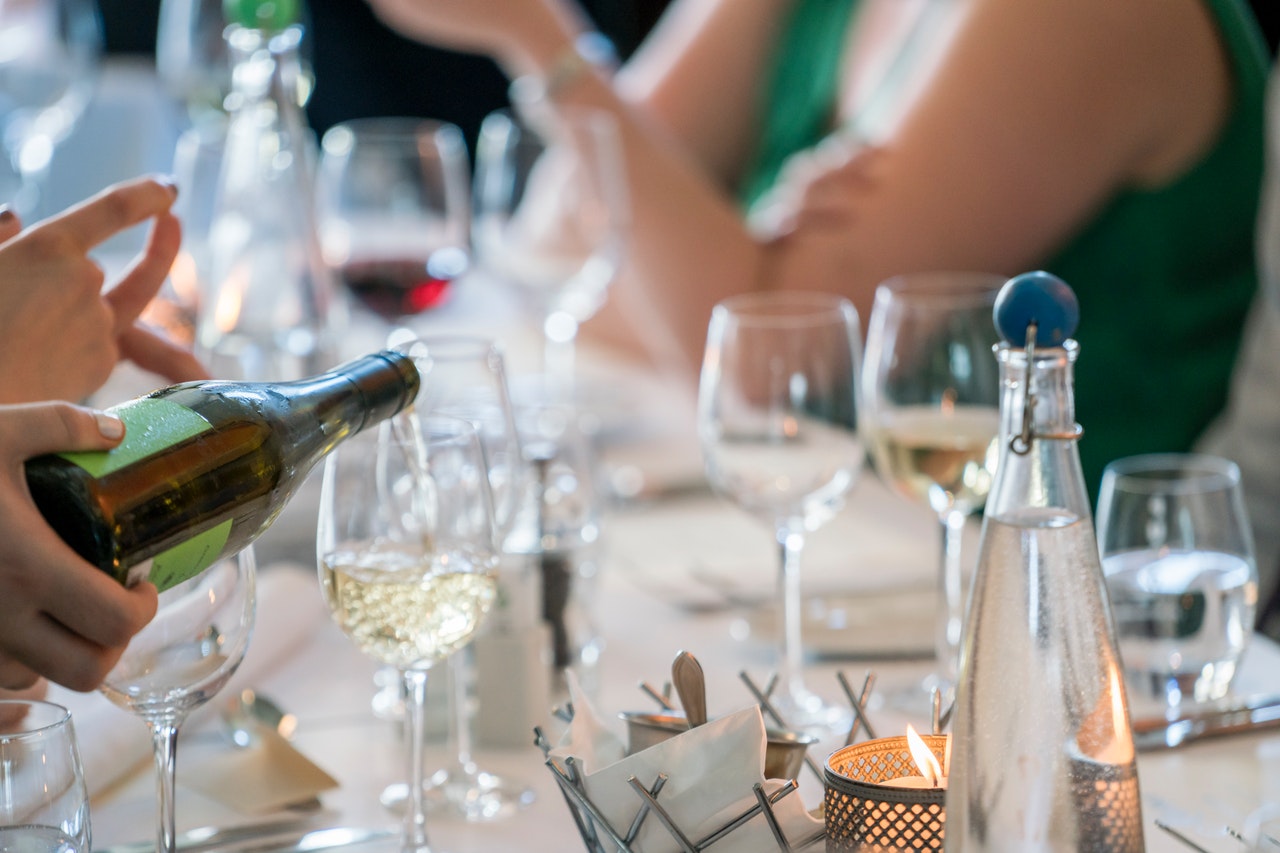 Now, if the number system doesn't thrill you or make you think "unique", there are other options. Each table can have a color and the DJ simply calls out the color name. Depending, again, on how many tables you have at your reception, you could coordinate the tablecloths with the color of the table. So you might have white, pink, lavender, beige, and yellow tablecloths. The guests sitting at that table simply move to the buffet table when the color of their tablecloth is called.
Another popular option for moving people easily to the buffet table involves having a little fun with your guests. You provide each table with a buzzer. Or either a bell-like you might find at a store or a small silver bell. Just something they can buzz or ring. The DJ or MC asks a trivia question or a question about the bride and groom. The tables buzz in with their answers. The guests at the table with the first correct buzzed answer move to the buffet table. You repeat the process until everyone is finally on their way to getting some grub.
The trivia method is an especially fun way to help guests to get to know one another, as they might have to work together to come up with an answer.
If your guests are hungry, you're sure to hear muffled groans and sighs of exasperation. But even with the small complaints, this is always a crowd-pleaser because it's fun and gets everyone involved.
Now, this next option is fun but can engender a bit of jealousy sometimes. When people get their place card, whether it's placed on the table, or they pick it up when they look at the seating chart, you can put a number on it. But not everyone at the same table will have the same number. If you have 100 guests, for example, you might choose to have 10 people at the buffet table at a time. So, each person would be assigned a number 1 through 10.
In the same scenario as above, the DJ or MC will call a number. Those numbers will head for the buffet table. There are sure to be more than one person from each table heading for the buffet table. But the sure thing is, the guests at each table won't get their food at the same time.
This staggered feeding can be fun or a nuisance, depending. It solves the problem of half the room being finished with their meal while waiting for the "later" table to finish theirs before the festivities start. It can also mean that one or two guests might be long done with their food (or wanting to head back for seconds) when others at the table haven't even eaten yet.
After considering the time or theme of your wedding, you can choose now the menu.
Plan ahead and find the perfect caterer. Nail down your estimated budget and guests. Consider your guests' preferences, but the most important thing is to stay true to yourself.
Adding personal touches to your menu is an easy way to make your wedding meal unique!