Tips for Writing Your Wedding Vow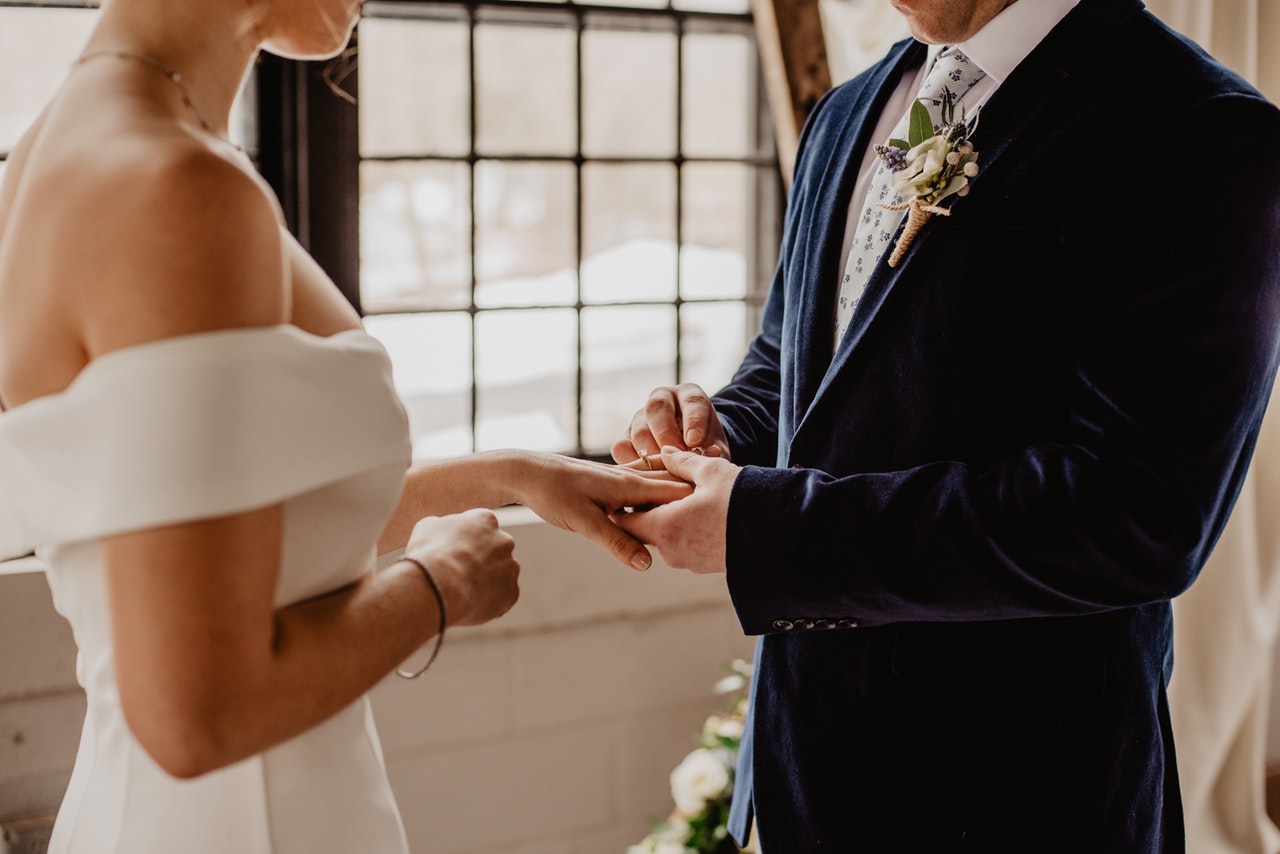 You should take your time when deciding on your wedding vows and personalize them to suit you and your partner and don't be influenced by what other people expect you to do.
This is one of the most important parts of the wedding because it is after the recital of your vows that you will be officially married.
More and more people are becoming very creative with their wedding vows, and this adds a personal touch that represents what you and your partner believe your marriage means to both of you.
It is a chance for you to express your real thoughts on why you are getting married and what it will mean for you in the future.
 "I [your name] take you [your partner's name] for my lawful [wife/husband] to have and to hold, from this day forward, for better, for worse, for richer, for poorer, in sickness and in health, until death do us part."
Many people use these traditional vows as the foundation that they will modify to suit their needs by adding personalized touches where they like.
Some people find the traditional vows a bit too formal, and the wording no longer appropriate to get the true meaning of their care for one another across. If that's the way you feel, then changing them is the right solution for you.
These words are more important than all the wedding speeches combined, so it is well worth spending as much time as necessary to come up with something extraordinary.
Get ideas from books and poetry and songs. Bounce ideas off one another, and you will soon know when you have hit the perfect combination that will lead you into your married life.
Just remember never to stop having fun because that's what it's all about – getting the most happiness in your life by sharing it with someone you love.
8 Steps on Write Your Wedding Vow
Vows are promises. But not just any promises. Vows are markers that guide your marriage.
The secret in writing an outstanding wedding vow is just to be yourself, and it should be from your heart. We need vows that will shape and impact marriages, not just empty words you copied from somewhere. So, to do that here's how:
1 – Start with a statement about who your partner is to you.
Is he your best friend, a partner in crime, a binge-watch buddy, or your everything? And Why?
2 – What do you love about him/her?
Why did you marry your partner? How did you realize he/she's the one? When did you realized you're in love? Jot down all your ideas.  You can tell your love story or funny memory, and it will give your guests an intimate look into your love for one another.
3 – Enumerate your promises.
Make promises to your partner and vow to stick to them. Such as: "I promise to encourage, support, and believe in you" or "I promise to be your partner in parenthood — to back you up in your parenting decisions rather than secretly allowing our kids to do whatever you told them not to do." Mention specific ways you will show your love—in romantic ways, humorous ways, and ways only the two of you could understand. If the two of you are celebrating your faith on your wedding day, you can incorporate religious wedding vows and wedding bible verses too. Use words as I vow, I promise, and I pledge.
4—Use romantic wedding vows to personalize your promise.
Use romantic wedding vows to encompass your commitment, love, and devotion. An example of this is: "I pledge to put your happiness before my own," or "I promise to have patience through the dark times."
5—Use comical wedding vows to personalize your promise.
Your wedding day will be one of the happiest days of your life. Add humor to your wedding vows, so they stay true to the two of you. An example of this: "I promise not to care if you lose your abs or get fat or old. Even if your hair and teeth are falling out, your skin is going flabby, and your waist is gaining a few inches, I'll forever remember the sexy beast you were, and love and cherish the person you are and you will be."
6—Mention your plans in the future.
Continue this portion of your vows by mentioning your plans in the future. Using phrases like: "With you," "I will," and "Together."
7—Don't forget to add that you'll be there even when times get rough.
Reassure your partner that this is for better or for worse, in sickness and in health.
8—End your vows with one last promise.
The promise of forever, for eternity, "as long as we both shall live," or you can still make it funny like: "I vow to never get tired of grabbing your butt and poking you and nagging you every single day we're together, until the end of time."
Wedding Vows You Should Steal for your Wedding Day
For the Groom
"I promise to pretend I'm enjoying it when you make me watch chick flicks. Or when you nag me to take out the trash."
"I vow to ALWAYS love you, even when you hog the remote or forget to put the toilet seat down."
"When I look into your eyes, I see the future. I see kids, I see dirty diapers… you name it, I see it. The weird thing is, though, as long as I see your smile, none of that stuff scares me."
"I promise to pay more attention to you than the game I'm watching."
"I promise to never flirt, lust, or desire the attention of someone else than you."
"I promise to love who you are today, not who I want you to be."
"I promise to be for you, to encourage your dreams, to help you become the woman God created you to be."
"I promise to never complain about our marriage, in general, or you, in particular, to others."
"I promise to believe the best is yet to come, regardless of how good or bad things are today."
"I promise to protect our marriage from outside influences, including kids, work, and in-laws."
"I promise to also acknowledge your necessities and respond to them in the best way I can – including your late-night pizza cravings."
"I pledge to put your happiness before my own."
For the Bride
"I promise to say, "You can do it!" or "That's easy-peasy for you, honey", to recognize your strengths, to see your potential, especially when you can't see it yourself."
"I promise to love myself as much as I love you and to never expect you to complete me."
"I promise to respect your boundaries."
"I promise to listen with an open mind and an open heart."
"I promise to allow you and help you to be your best self."
"I promise to be a safe space for your secrets and vulnerabilities."
"I promise to have patience through the dark times."
"I vow to always listen and to not talk over you — especially when I know you're right."
"I pledge to give you an acceptable answer whenever you ask 'where should we go eat?' instead of saying, 'I don't know, where do you want to go eat?'"
"I promise not to bring home any new pets (especially puppies and baby goats) without prior warning."
"I vow to always make time for you and to initiate occasional date nights (and intimate midnights) with you, no matter how stressful and busy life becomes."
"I promise to be clear with my needs and expectations, and not make it difficult for you to guess what's on my mind."
"I solemnly swear not to keep a scorecard of our wrongdoings."
"I solemnly swear to be your best friend and your greatest fan, to walk beside you through thick and thin, and to support and encourage your dreams."
Tips for Writing Wedding Vows
If you're having trouble writing your wedding vows, don't panic and read our tips for writing your wedding vows.
1—Start early.
Begin constructing your vows early so you'll have plenty of time to find inspiration, to procrastinate and to enjoy thinking up all the reasons you are saying, "I, Do!"
2—Ask your partner for some suggestions.
Of course, you should keep your vow secret and surprise him/her on your wedding day. But you can still ask for some suggestions like maybe agree on a particular style/format/tone for your vows. Should it be serious? Or do you prefer it to be humorous?
3—Reminisce
Check your photos/memories in photographs or on Facebook. Check your messages, screenshots if there are special love notes or keepsakes.
4—Make a list.
When you first sit down to write your vows, don't be stressed about writing complete sentences or if there's correct grammar. Start jotting down everything that comes to mind.
5—If you get stuck, answer a few questions about your relationship.
Why did you decide to get married?
When did you realize you were in love?
What do you have now that you didn't have before you met?
Was it love at first sight?
What hard times have you gone through together?
How has he/she changed you?
What do you miss when you're apart from each other?
6—Get inspired.
Watch Netflix, movies—chick flicks. Read books. Pull inspiration from your favorite authors or poets. Once you've found a few ideas you love, determine what it is about those vows that you are drawn to and try to incorporate that into your own.
7—Avoid anything too personal or embarrassing.
You don't want your guests to be out of place. Limit the inside jokes and any words you second guess as you re-read what you've written. You can also have a friend read through your vows and make sure you didn't miss anything.
8—Take a break.
If you have a writer's block, try taking a break and try it again the next day.
Writing your own wedding vows gives the two of you the chance to make the moment more personal. It will give your guests a look into the unconditional and true love you have for one another.