Choosing Your Wedding Rings
Many people have broken with tradition when it comes to wedding rings these days, and often they will only get the one ring that serves both as a wedding and an engagement ring.
This is purely up to the individual, and also, as with everything else in the wedding arrangements, there is the limiting factor of finances that will determine to some extent what type of ring or rings are purchased.
Depending on the type of ring that you prefer, you will usually find that there are vast differences in the prices that the various jewelers will charge, so the time taken getting prices can save you a lot of money.
Many men don't like to wear rings, and this is a personal preference that they need to discuss between the bride and groom.
There can be many reasons why men don't like to wear a ring, and the upside of that is you can afford to spend more on your own ring.
With men, there are often other practical factors that need to be taken into account with their decision whether or not they will wear a ring.
With certain professions, it is actually dangerous for the man to wear a ring that could get caught in machinery or similar circumstances.
If you and your partner have differences as to what should be expected with the ring selection then take your time and discuss all aspects of this and treat it as a process of improving your communication skills while allowing each other to enjoy the freedom to be still able to express their own personal preferences even though there is now another person to consider in their life.
The rings are merely a symbol and not as important as the true feelings and the trust that you have for one another.
Do You Suffer from Wedding Ring Envy?
Not all couples have surprise engagements.  In today's world, lots of women prefer to dictate exactly what kind of engagement and wedding ring they want their beau to purchase for them.
What's worse is that many women are catty.  Some women blatantly tell their husbands-to-be that the only requirement they have for their wedding ring is that it's bigger than so-and-so's ring.
Most brides aren't even concerned about the quality of the diamond – size matters most, and they're hoping to blind the entire sea of guests with their sparkling wedding ring. Not every bride cares about size and cost.  Some care more about sentimental value.
One bride was disappointed that her fiancé had proposed without yet buying her a wedding ring.  He assumed she'd want to pick it out herself, and he was saving the money to do it right.  But she told him that she'd be happy with a Cheerio on her finger.
Then there are the women who demand that their wedding ring cost more than a car and be bigger than two carats.  "If not," they say, "don't even bother proposing."  Which kind of woman are you?
Let's clarify something.
No one is saying you should be pleased with a piece of cereal on your ring finger.  But there's more to your wedding ring selection than size.  Some brides don't want diamonds, but if you do, make sure the quality of the diamond is adequate.
Try on several options and ask about the possibility that you'll be allergic to the materials the wedding ring is made out of.  It'd be a shame to wear your $10,000 Platinum band only to find it has a hint of nickel in it, and it's giving you a rash!
Try not to think of your wedding ring purchase as an "I want to outdo her ring" situation.  There will always be someone who has a bigger, more sparkly diamond than yours.  A wedding ring is an emotional and financial investment you're making for your future.
If the wedding ring is passed down as an heirloom to your children and grandchildren, you want them to know you and your groom spent your money wisely.
Different Ring Type and Styles
Band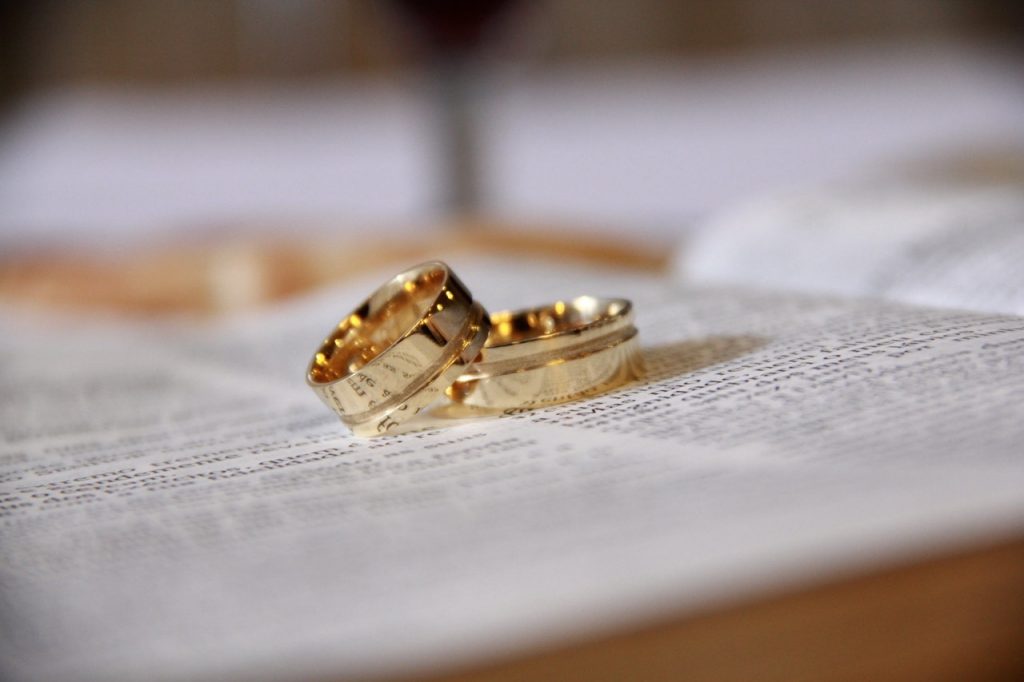 A ring (usually plain gold) given to the bride (and sometimes one is also given to the groom) at the wedding. It has no obvious top. It may be engraved with letters/names.
Bridal Set
Set of rings worn by a married woman. It includes an engagement ring and a wedding band. They are usually worn stacked together.
Eternity Band
A band that is uniform in width and set with one or more continuous rows of identically cut gemstones or diamonds. The stones completely surround the band and are usually prong or channel set. It is usually given from a husband to his wife on their wedding anniversary.
A small ring used to show a vow to a faithful relationship. It may or may not be an antecedent to an engagement ring. Identical or complementary promise rings may also be exchanged between friends as a symbol of their everlasting friendship, or it may be a sign of a religious or a personal commitment to adhere to certain rules or principles.